Organizations have enjoyed Rogena's legacy topics since 1987. Here's what some have said about her keynotes and workshops. Below the testimonials is a partial list of clients.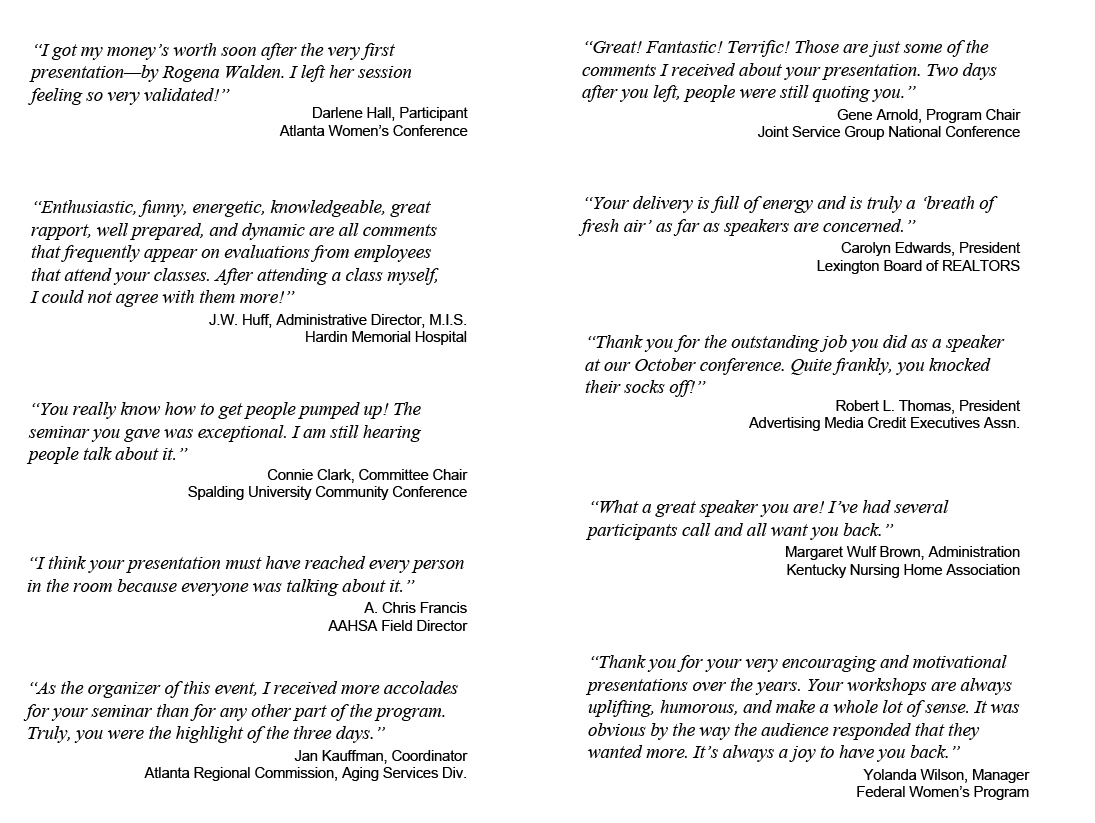 Here are some of the groups who've heard Rogena:
Aging Professionals
American Assn. for Homes and Services for the Aging (now LeadingAge)
Atlanta Regional Commission—Aging Services Division
Florida Assn. of Homes for the Aging
Georgia Assn. of Homes & Services for the Aging
Kentucky Assn. of Homes & Services for the Aging
Kentucky Nursing Home Assn.
Life Services Network of Illinois
Louisiana Assn. of Homes & Services for the Aging
Michigan Assn. of Homes & Services for the Aging
Orlando Lutheran Towers
Senior Services North Fulton, Inc.
Tennessee Assn. of Homes & Services for the Aging
Women's Groups
Alpha Kappa Alpha, Inc.
American Business Women's Association
Atlanta Women's Conference
Executive Women International
Federal Women' s Program
Hewlett-Packard Women's Information Network
KFC Corporation Women's Network
Louisville Assn. of Insurance Women
National Assn. of Women Business Owners
Toyota Kentucky Woman Conference
Education
Atlanta Public School System
Bauder College Atlanta
Embry-Riddle Aeronautical University
Louisville Public School System
McKendree College
North Carolina Assn. for the Advancement of Teaching
Spalding University
Tennessee Education Association
University of Kentucky
Associations
Advertising Media Credit Executives Assn.
Association of Volunteer Administrators
International Assn. for Administrative Professionals (IAAP) Alabama Division
IAAP Kentucky Division
IAAP Southeastern Division Conference
Healthcare
Bowling Green Women's Health Center
Hardin Memorial Hospital
Kentucky Directors of Nursing Association
Louisville VA Medical Center
Religion/Spirituality
Body, Mind & Spirit Expo Atlanta
Hillside Chapel and Truth Center
Presbytery of Detroit Women's Conference
Severns Valley Baptist Church
St. Michael Catholic Church
Corporate/Government/Nonprofit
Dow Corning Corporation
Federal Joint Inter-Service Group
First Federal Savings Bank
Georgia Department of Human Resources
Georgia Office of Adult Literacy
Goodwill Industries of Kentucky
Goodwill Industries of North Georgia
GTE South
Kentuckiana EEOC
Kentucky Farm Bureau
Lexington Board of REALTORS
Mesa Food Products, Inc.
US Dept. of Housing and Urban Development
Back to speaking topics.
Back to Home page.