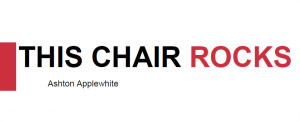 Ashton Applewhite, the ageism activist and author behind the This Chair Rocks blog, gave a webinar this past week for the American Society on Aging. In it, she shared information that contradicts what many of us think about aging. For example, she described data showing that only 4% of people over 65 live in nursing homes now—down from 5% a decade ago. Of those not in nursing homes, 90% are cognitively fit. That's good news.
Problem is, our culture teaches us to be afraid of aging by spreading negative myths. Applewhite is trying to debunk those myths. Many in this country believe that after 30 or 40, things start to go downhill. All there is to look forward to is decline. Beliefs like that only fill us with needless dread.
Memory, mobility, and sex—these are topics we typically have misconceptions about when it comes to aging. Applewhite challenges us to recognize the truth: (1) most forgetfulness is not about Alzheimer's or dementia, (2) you don't need to be fully mobile to age well, and (3) some people enjoy sex after 80 and they are creative about the ways intimacy can be achieved.
This culture worships youth, but studies show that people are happiest at the beginning and at the end of their lives. The older we get, the better we deal with negative emotions and the less we experience social anxiety.
So, how can we begin to step out of the shadow of warped views on aging? Applewhite suggests we stop using the word "old" to describe negative conditions. Instead of saying "I feel old" say "I feel some stiffness in my back." She advocates a ban on the word "elderly" because older adults do not make up one homogeneous group.
The webinar was engaging and reminded me how far we must go to catch up with the realities of today's aging phenomenon. If you want to see short videos of her message, visit her YouTube channel at: https://www.youtube.com/channel/UCLgpTfeLydvf5PKEvYBaVmQ
Ashton Applewhite's core message is simple: the more you know about aging, the better the future looks.