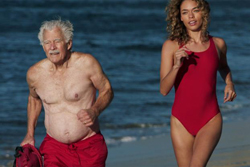 I didn't watch this year's Super Bowl but heard that it was an unusually exciting one. I also missed my favorite part—watching the ads that debut during the big game. Instead, I found them on the Internet. A few of them were good, but one really grabbed my attention. It was called "This is Getting Old" and portrayed working as an older adult to be a problem.
Using the music of Harry Belafonte's "Banana Boat Song" (commonly known for the "Day-O" refrain), the E-Trade commercial changed one lyric from "Daylight come and me wanna go home" to "I'm 85 and I wanna go home." Click here to watch it.
The ad itself is humorous, but feeds on the fear of facing retirement without financial security. It shows old folks trying to wield a fire hose, working as a life guard, and struggling with other jobs. The thing is, there's a completely different side to working later in life.
After nearly 30 years of teaching college classes, my schedule was getting lighter due to low enrollment. I had retirement income, but wasn't ready to stop working. The times I had fewer classes, I found myself watching too much TV and feeling depressed. I needed something to keep my mind stimulated. Something to challenge me. I needed to make use of the knowledge and skills I've accumulated.
Although I'd been volunteering and giving presentations, I wanted to do more. So, at the age of 65, I threw my hat into the ring. At first, the applications went unanswered. I started wondering about age discrimination.
Then, as fate would have it, after asking someone to provide a reference for me on one particular job, she responded with a better offer. Turns out, the agency I'd been volunteering with for the past few years had a position open that suit me to a tee. They let me set my work schedule, gave me new technologies and material to learn, and put me in with supportive people who make me feel right at home.
It's a perfect fit. The job allows me to use my skills and talents while stretching me in new ways. I'm excited to get up each morning, looking forward to doing work I am passionate about.
I feel blessed to have started a new career that's flexible, meaningful, and fun. So, as for the E-Trade ad, I would change that lyric to "Day-O! I'm 65 and I'm glad to leave home."