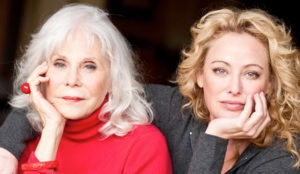 She dares to do stuff that people tell her she shouldn't. She doesn't know the meaning of old. Do you know a woman like that? In a recent documentary, actress Virginia Madsen and her Emmy Award-winning mother Elaine interviewed 17 women, ages 64 to 95. They recorded the insights and perspectives and pearls of wisdom shared by people continuing to live life on their terms.
Take for example author Nancy Freedman. She wrote 20 novels across a seven- decade career and showed no signs of slowing down. At age 88, she was tackling a 500-page book. She admitted that her body took some hits over time, but her mind was still sharp. About growing older she said: "My only worry is can I finish all the things I have started?"
What's their secret to a long and healthy life? Genes play a role, certainly. But the biggest impact comes from lifestyle choices. One woman competes in national water skiing competitions, and continues to win them—at 95. Lucille Borgan admits, "I don't sit very much."
Staying active is also key for Tao Porchon-Lynch, spiritual teacher and who at 93 was the oldest yoga instructor in the world. She still gives several classes a day and trains for ballroom dance competitions. "I just think that nothing's impossible and I don't let anything really get me down."
How do these women feel about changes in their appearance? Suzanne Adams, now 72, had been Virginia's drama teacher in high school. She put it this way: "It comes to my attention every now and again when I unexpectedly pass a mirror." But rather than dwell on her looks, she prefers to focus on the benefits of this chapter: "Now time offers freedoms that weren't available earlier in life."
Eventually, the subject turned to sex. Much of society writes women off after they've passed childbearing years. But then there's Lorraine Morton. A former school teacher, instead of retiring, she ran for office and became the longest-serving mayor of Evanston, Illinois. At age 88, she commented: "When you get as old as I am, when you're at an age when you feel that all of the joys of life are over, and you find that your body has some of the same reactions and feelings you had 50 years ago…what a nice surprise."
She wasn't alone. Several of the women shared that they still had an active, intimate relationship with their partner. Most said that sex was better than in their youth because now they knew their bodies and had the confidence to express their desires.
The documentary is called "I Know a Woman Like That" and includes interviews with Rita Moreno, Gloria Steinem, Eartha Kitt, Lauren Hutton, Alice Kaufman—owner of the iconic New York restaurant, and others from across the country.
Wrapping up the film and reflecting on her own 80 years, Elaine Madsen remarked: "Life just keeps going on and getting more interesting." Virginia asked her mother what it's like to be old, and the reply was: "I guess I keep waiting to find out."
The stories of women filled with curiosity, commitment, humor, and love were inspiring. Do you know a woman like that? Are you one?