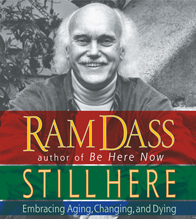 I am an avid reader. Have been all my life. But now, most of the books I am picking up have something to do with aging. My curiosity is insatiable. I want to know as much as possible about what this is that I am experiencing. The hope is that I will find some hints of how to do it better, with less stress. I found another such jewel.    
The field of aging is yielding more and more information on keeping the body and brain in good health for more years. Fewer studies delve into the inner journey. Ram Dass, a well-known spiritual teacher whose books and lectures have influenced thousands since the 1970s, was writing a book about conscious aging called Still Here when he was 65. His life became a case study on aging from the inside out.
While working on the book, he suffered a massive stroke that left him partially paralyzed with his speech severely impaired. A shattering experience for anyone, it particularly challenged this teacher who traveled the world with a busy speaking schedule and numerous projects.
Despite the disruption of his professional life, Ram Dass came to see, as he shares in the book, "that the incidents associated with aging—including this stroke—can be used for our spiritual healing, provided we learn to see through new eyes." His journey through dealing with speech difficulties, a wheelchair, and long-term pain illustrates how we can cope with whatever aging throws at us using our inner wisdom. His spiritual awareness enables him to handle each challenge and demonstrates how the perspective we choose can either keep us trapped in struggle and suffering or empower us to rise above the challenges we face.
The book offers insights through his personal story and sheds light on how we can use spiritual practice as a tool for dealing with the complaints and fears associated with aging. I was late in discovering Ram Dass, but so glad I found this book. It's a powerful read for anyone interested in learning how they can move through this chapter of life while maintaining peace and joy.